Maria S. Terrell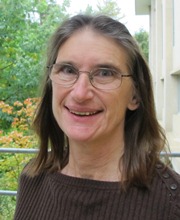 Senior Lecturer of Mathematics and Director of Teaching Assistant Programs (Retired)
Ph.D. (1978) University of Virginia
Research Area
Geometry and mathematics education
My recent interests in geometry have included tensegrities and the history of geometrical optics and linear perspective. I am collaborating with a group of faculty and graduate students in an effort to improve undergraduate mathematics instruction through a project we call GoodQuestions. The project is developing materials to help instructors engage students in meaningful discussions about key concepts in calculus. At a recent MER (Mathematicians in Education Reform) workshop I presented a paper about my recent experience in the project.
Selected Publications
Kaleidoscopes and mechanisms (with R. Connelly and B. Hendrickson), Colloqui Mathematica Societatis Janos Boyai 63 (1991).
Behind the scenes of a random dot stereogram (with R. Terrell), American Mathematical Monthly 101 no. 8 (1994).
Globally rigid symmetric tensegrities (with R. Connelly), Structural Topology 21 (1995).
Asking good questions in the mathematics classroom, Mathematicians and Education Reform Forum Newsletter 15 no. 2 (2003).
Can good questions and peer discussion improve calculus instruction? (with R. Miller and E. Santana-Vega), PRIMUS XVI no. 3 (2006), 193–203.
Calculus With Applications (with P. Lax), Springer, 2014.
Preliminary results from NSF Grant DUE-0837757