Richard H. Rand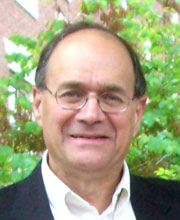 Professor of Mathematics and Mechanical and Aerospace Engineering, Stephen H. Weiss Presidential Fellow
535 Malott Hall
207 Kimball Hall
(607) 255-8198 (607) 255-7145
Sc.D. (1967) Columbia University
Research Area
Nonlinear dynamics
My research involves using perturbation methods and bifurcation theory to obtain approximate solutions to differential equations arising from nonlinear dynamics problems in engineering and biology. Current projects involve differential equations with delay terms and include applications to MEMS (micro electrical mechanical systems), evolutionary dynamics and synchrotron dynamics. These projects are conducted jointly with graduate students and with experts in the respective application area.
Selected Publications
Delay-Coupled Mathieu Equations in Synchrotron Dynamics (with A. Bernstein), Journal of Applied Nonlinear Dynamics 5 no. 3 (2016), 337-348.
Delay Terms in the Slow Flow (with S.M. Sah), Journal of Applied Nonlinear Dynamics 5 no. 4 (2016), 471-484.
Dynamics of an Oscillator with Delay Parametric Excitation (with L. Lazarus and M. Davidow), International Journal of Non-Linear Mechanics 78 (2016), 66-71.
Hopf Bifurcations in Delayed Rock-Paper-Scissors Replicator Dynamics (with E. Wesson), Dynamic Games and Applications 6 (2016), 139-156.
Master-Slave Locking of Optomechanical Oscillators over a Long Distance (with S.Y. Shah, M. Zhang and, M. Lipson), Physical Review Letters 114 (2015), 113602.