Kelly Delp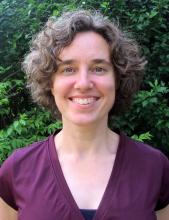 Director of Teaching Assistant Programs and Senior Lecturer
Ph.D. (2005) University of California, Santa Barbara
Research Area
Geometric Topology
My mathematical research interests are primarily in geometric structures on Manifolds and Orbifolds, particularly strictly convex projective structures. I am also interested in finding new ways to illustrate and share mathematical ideas with students, colleagues and the general public. 
Selected Publications
Stripey Squares. Bridges Seoul Conference Proceedings, (2014), 73-78.
High Fashion Meets Higher Mathematics. In Mircea Pitici, (Ed.) The Best Writing on Mathematics 2013 (pp.109-119), Princeton University Press, (2014).
Playing with Surfaces: Spheres, Monkey Pants, and Zippergons (with William P. Thurston), Bridges Coimbra Conference Proceedings (2011), 1-8.
The Marked Length Spectrum of a Projective Manifold or Orbifold (with Daryl Cooper), Proceedings of the AMS, 138 (2010), 3361-3376.
Almost Periodic Flows on 3-Manifolds, Algebraic & Geometric Topology 7 (2007) 157−180.