Jason Manning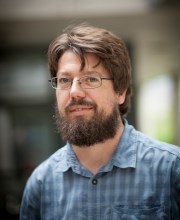 Associate Professor of Mathematics
Ph.D. (2003) University of California at Santa Barbara
Research Area
Geometric group theory, geometric topology
I study infinite discrete groups by studying their actions on metric spaces, especially negatively curved (hyperbolic) metric spaces. The topology and geometry of 3-manifolds also figures heavily in my work, both directly and as inspiration.
Selected Publications
Filling virtually special subgroups, Appendix to The virtual Haken conjecture by Ian Agol. (with Ian Agol and Daniel Groves), Documenta Mathematica 18 (2013) 1045-1087.
CAT(0) and CAT(-1) fillings of hyperbolic manifolds (with Koji Fujiwara), Journal of Differential Geometry 85 no. 2 (2010), 229–270.
Virtually geometric words and Whitehead's algorithm, Mathematical Research Letters 17 no. 5 (2010), 917–925.
Residual finiteness, QCERF, and fillings of hyperbolic groups (with I. Agol and D. Groves), Geometry & Topology 13 (2009), 1043–1073.
Dehn filling in relatively hyperbolic groups (with D. Groves), Israel Journal of Mathematics 168 (2008), 317–429.
Geometry of pseudocharacters, Geometry & Topology 9 (2005), 1147–1185.
Algorithmic detection and description of hyperbolic structures on 3-manifolds with solvable word problem, Geometry & Topology 6 (2002), 1–26.