Irena Peeva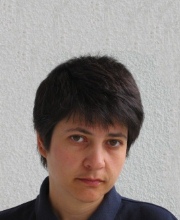 Ph.D. (1995) Brandeis University
Research Area
Commutative algebra
My research interests are in commutative algebra and its connections to algebraic geometry, combinatorics, subspace arrangements, and noncommutative algebra.
Some of my research is focused on the structure of free resolutions and their applications. The study of resolutions is a beautiful and core area in commutative algebra with several challenging conjectures. The idea to associate a free resolution to a module was introduced in Hilbert's famous 1890,1893-papers. Resolutions provide a method for describing the structure of modules.
Selected Publications
Flips and Hilbert schemes over exterior algebras (with M. Stillman), Math. Ann. 339 (2007), 545–557.
Connectedness of Hilbert schemes (with M. Stillman), J. Alg. Geometry 14 (2005), 193–211.
Toric Hilbert schemes (with M. Stillman), Duke Math. J. 111 (2002), 419–449.
Finite regularity and Koszul algebras (with L. Avramov), American J. Math. 123 (2001), 275–281.
Deformations of codimension 2 toric varieties (with V. Gasharov), Compositio Mathematica 123 (2000), 225–241.
Generic lattice ideals (with B. Sturmfels), J. American Mathematical Society 11 (1998), 363–373.
Complete intersection dimension (with L. Avramov and V. Gasharov), Publications Mathematiques IHES 86 (1997), 67–114.