Daina Taimina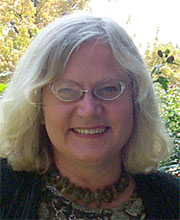 Adjunct Associate Professor of Mathematics (Retired)
Dr. Math. (1992) University of Latvia
Ph.D. (1990) Academy of Sciences of Belorussia
Research Area
Geometry, history of mathematics, educational mathematics, automata theory
Selected Publications
How to use history to clarify common confusions in geometry (with D. W. Henderson); Chapter 6 in From Calculus to Computers: Using Recent History in the Teaching of Mathematics, MAA Notes 68 (2005), 57–73.
Experiencing Geometry: Euclidean and Non-Euclidean with History (with D. W. Henderson), 3rd Edition, Prentice-Hall, 2005.
Boolean functions with a low polynomial degree and quantum query algorithms (with R. Freivalds and others), Lecture Notes in Computer Science 3381 (2005), p. 408–.
Experiencing meanings in geometry (with D. W. Henderson); chapter 3 of Mathematics and the Aesthetic (Nathalie Sinclair, David Pimm, William Higginson, eds.), CMS Books in Mathematics, Springer, 2006, pp. 58–83.
Historical mechanisms for drawing curves; in Hands On History (Amy Shell-Gellasch, ed.), MAA Notes 72, 2007, pp. 89–104.
Crocheting Adventures with Hyperbolic Planes, AK Peters, 2009.
Concrete models and dynamic instruments as early technology tools in classrooms at the dawn of ICMI: from Felix Klein to present applications in mathematics classrooms in different parts of the world (with Maria G. Bartolini Bussi and Masami Isoda), ZDM: The International Journal on Mathematics Education (to appear).