Christian Maire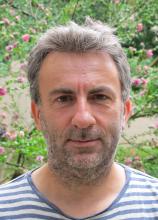 Research Area
Algebraic number theory
My research is in the arithmetic of infinite extensions of number fields and its applications. More precisely, I am interested in:  pro-p-extensions of number fields; ramification in infinite extensions; Galois representations; iterated extensions; codes and lattices from number fields; etc.
Selected Publications
Maximal Orders Codes over Number Fields (with F. Oggier), Journal of Pure and Applied Algebra, to appear.
Sur la séparation des caractères par les Frobenius (with C. Euvrard), Publicacions Matemàtiques, 61 (2017), 475-515.
On the cohomological dimension of some pro-p-extensions above the cyclotomic Z_p-extension of a number field (with J. Blondeau and P. Lebacque), Moscow Mathematical Journal, 13 (2013), 601-619.
Extensions of number fields with wild ramification of bounded depth (with F. Hajir), International Math. Research Notices 13 (2002), 667-696.
Finitely ramified iterated extensions (with W. Aitken and F. Hajir), International Math. Research Notices 14 (2005), 855-880.
Tamely ramified towers and discriminant bounds for number fields (with F. Hajir), Compositio Math. 128 (2001), 35-53.